Former plantation house Landhuis Habaai – or Plantation Welgelegen as originally known – as it shows now, was most probably built around 1752. The plantation exists much earlier. It is also one of the oldest on the island.
Brazil was a Dutch colony until 1654, when it became Portuguese. At that time the Dutch Colonial Council granted a large contingent of Jews living in Brazil, permission to relocate to Curaçao where they were given a large piece of land on the northwest shore of the Schottegat. Sephardic Jews from both Brazil and Amsterdam settled in this district, soon known as the Jewish Quarter. From the various Jewish mansions that arose there, Landhuis Habaai is one of the few to remain to this day.
Initially a diversified plantation company with farming plus cattle, this building served among many other things as a country residence for various governors. Towards the end of the 19th century it was bought by the Roman Catholic Church and it was given a completely different purpose, namely as a boarding house for upper-class girls and later on an orphanage. The wing on the northeast side, which has since collapsed, was built around that time. After the orphanage closed in 1924, novices remained living in the plantation house and ran a nursery. The upper floor with its large attic was then rented to private individuals and families.
A notable historic period was that Landhuis Habaai was renowned for its straw hat production around the start of the 20th century. Straw weaving courses were given here and Panama hats were produced on a large scale by 1910.
In 1965 the plantation house was thoroughly restored and converted into a training center with guest rooms. The country house with its attractive terrace in the back was rented out for weddings, meetings and gatherings. In the nineties, the country house was slowly abandoned. Since then it has stood empty and until about fifteen years ago it was a desolate, dilapidated place.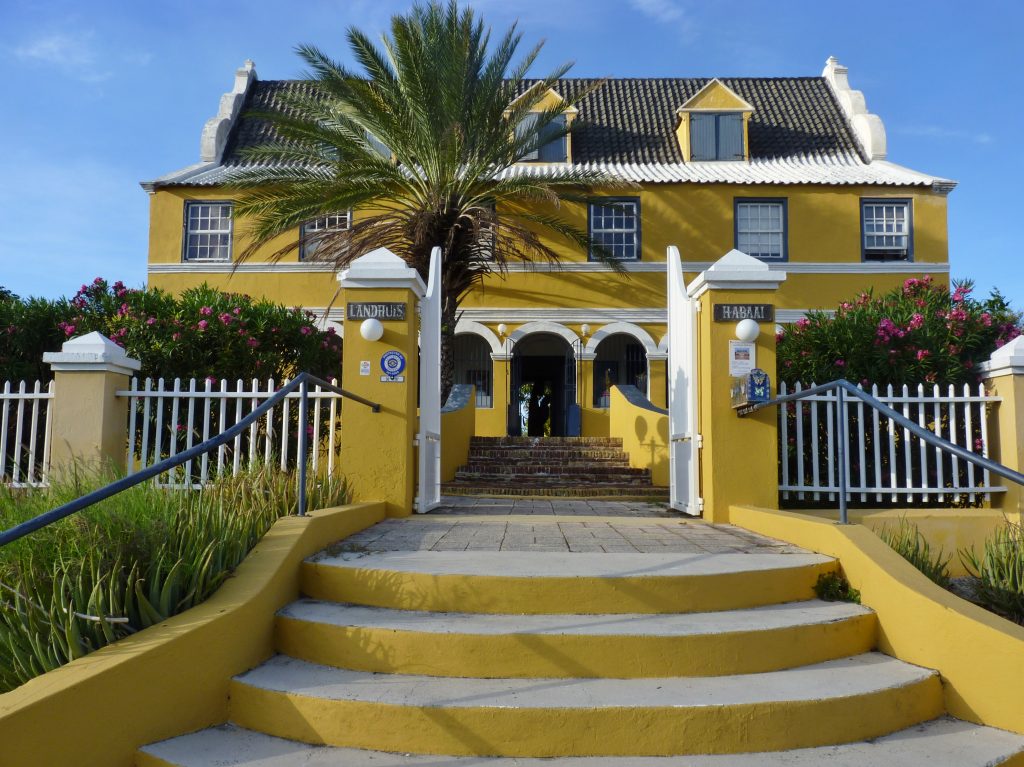 Lusette and Herman Verboom bought Landhuis Habaai in 2005 with a dream of expanding their business and have taken on the enormous challenge to restore this historic monument to its former glory. They did this with the help of an architect and with the support of many friends from the community. Driving by during that period, you could see not only workmen, but also friends and artists helping with the painting, lugging, sweeping, and tidying up, etc.
The mansion has an ideal layout: a large main gallery, the heart, is flanked by front and a back gallery. The building is situated in a way that makes daylight filter through it beautifully.
After moving into the mansion themselves, the Verbooms relocated their Kas di Alma Blou Gallery & Giftshop from Otrobanda to Landhuis Habaai in 2006. Since then, Gallery Alma Blou is a household name in the local art world. Also showcasing art from the surrounding Caribbean islands, visitors are treated to a kaleidoscope of engaging exhibitions and events.
Landhuis Habaai has a way of enhancing the artwork's beauty within its walls. Collections of paintings, sculptures, ceramics, jewelry and dolls are exhibited in different spaces in such a way that their quality stands out even more.
The Habaai, Wishi and Santa Helena districts now have a beautiful jewel in this historic monument; an upgrade for the entire neighborhood. Located in a very convenient location, less than five minutes from Juliana Bridge. From the moment you step inside, the pleasant atmosphere is noticeable. The good vibrations, the good blue soul of the house.